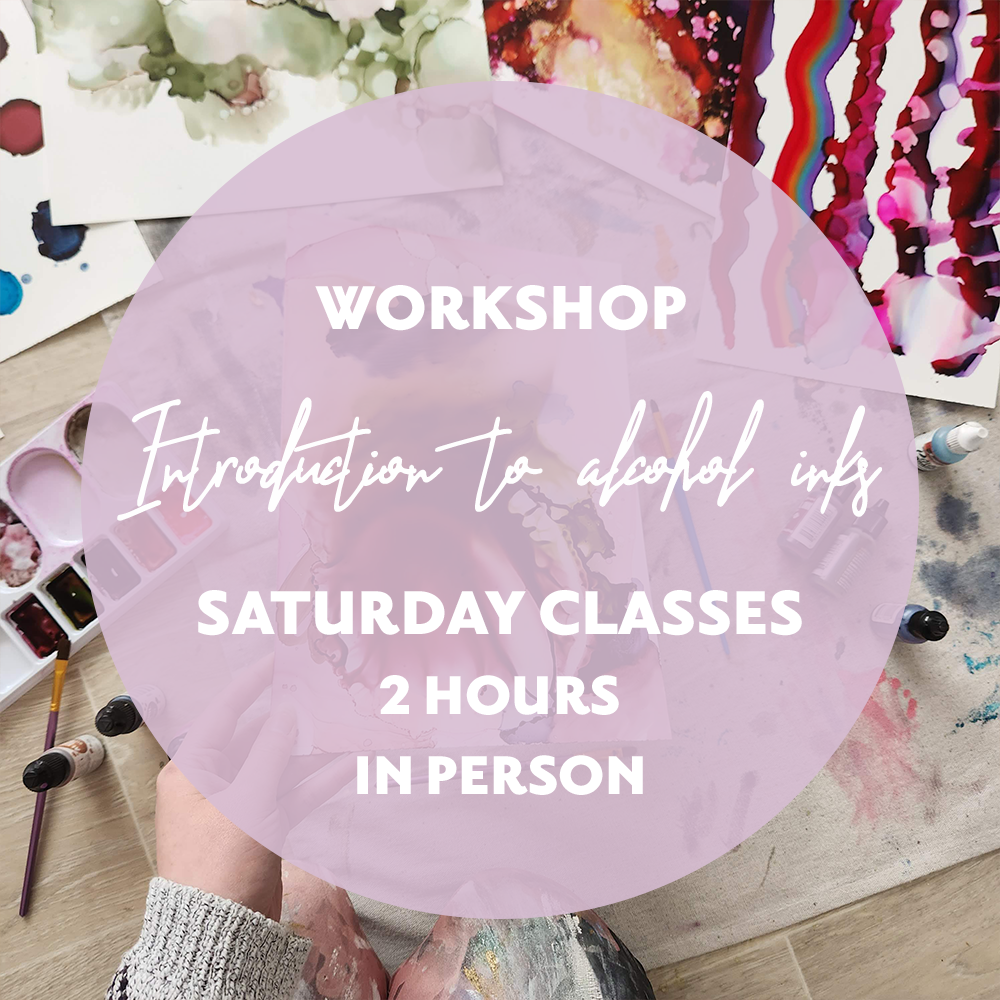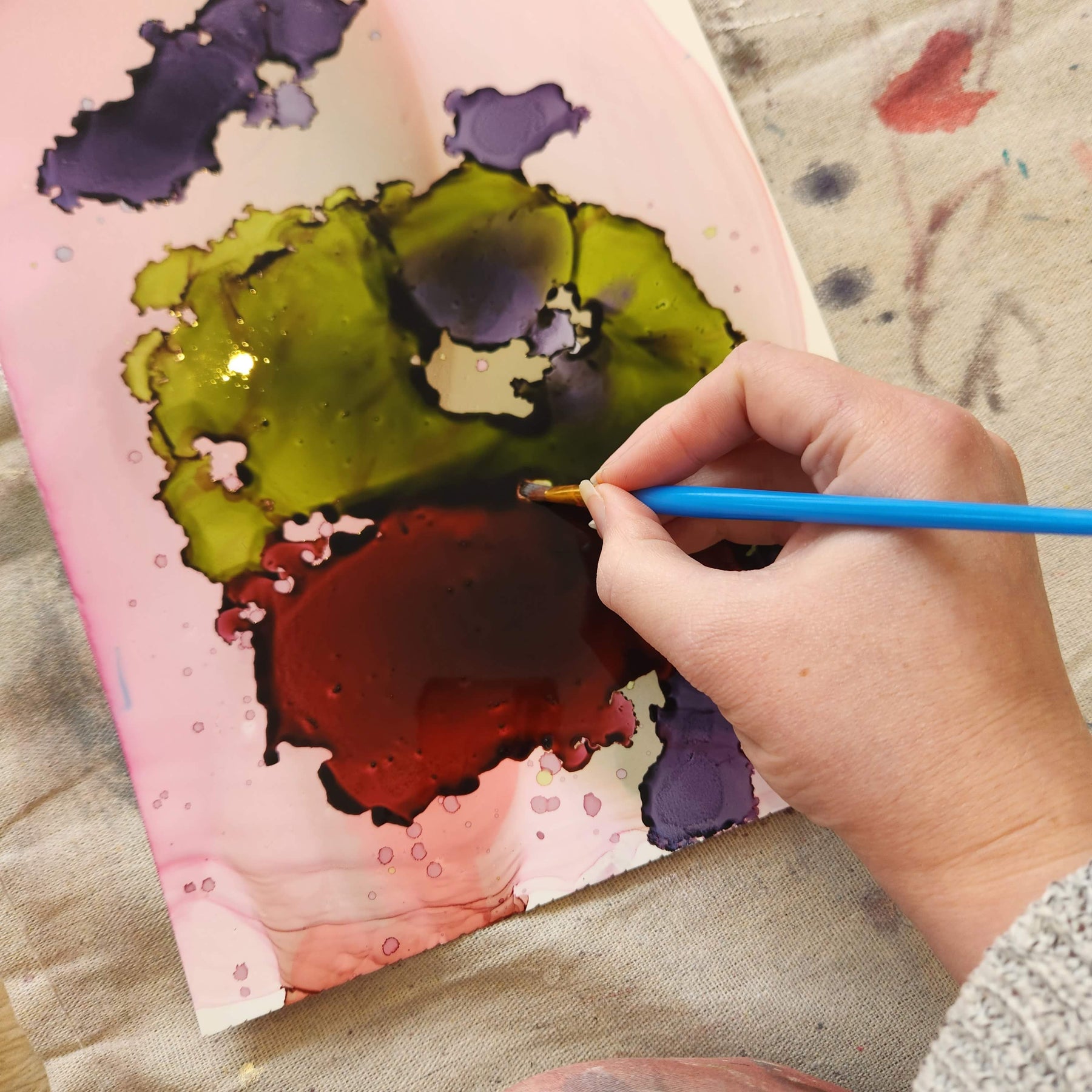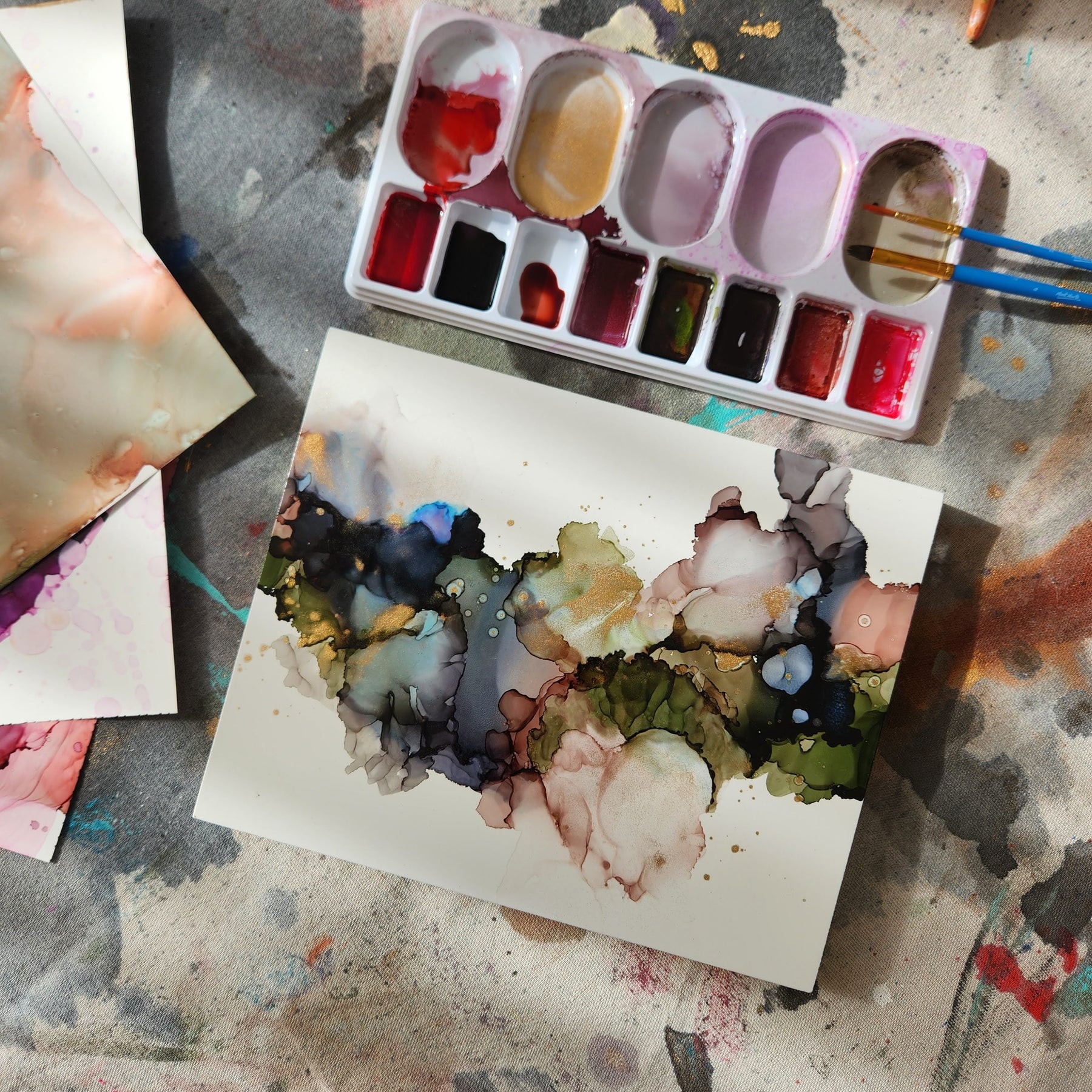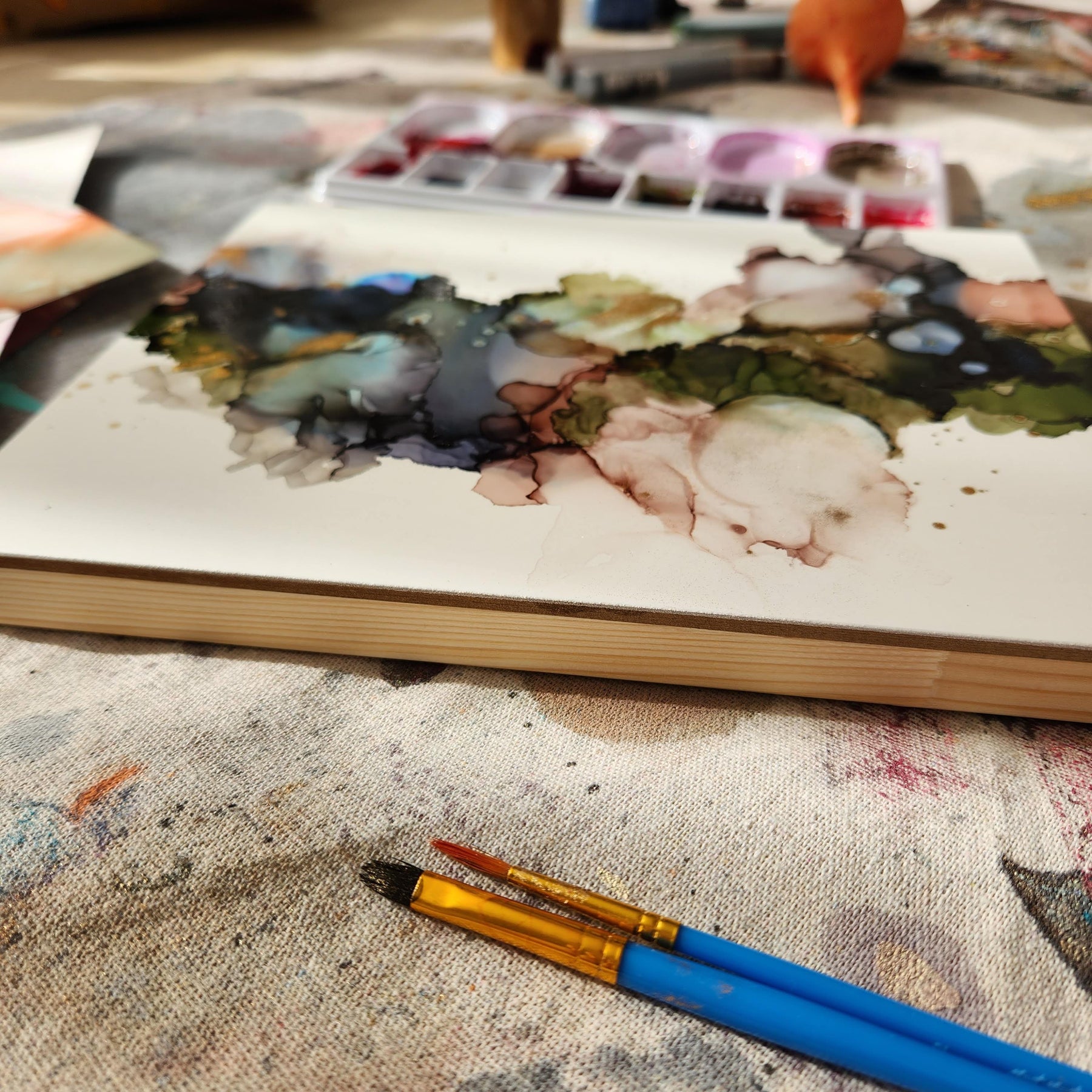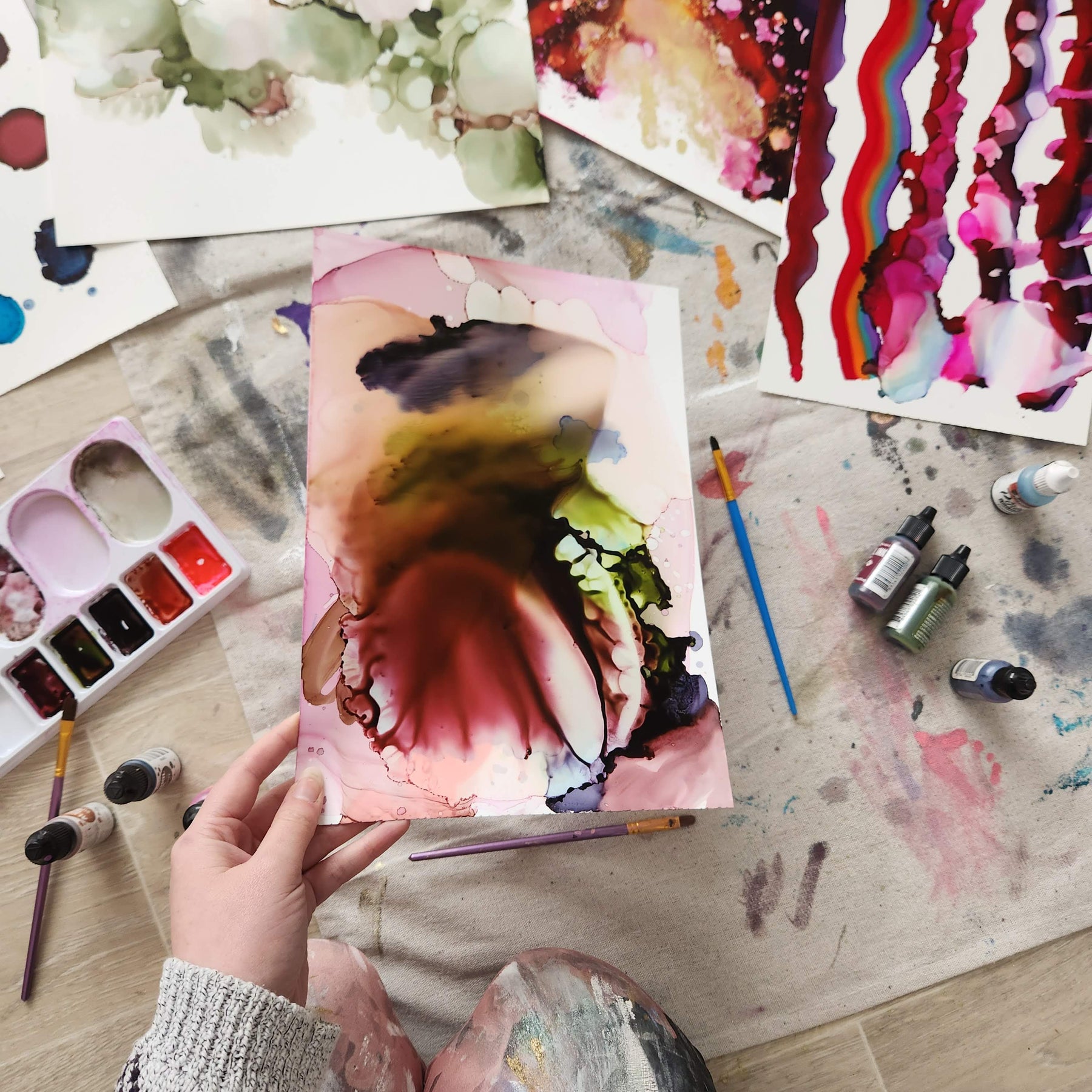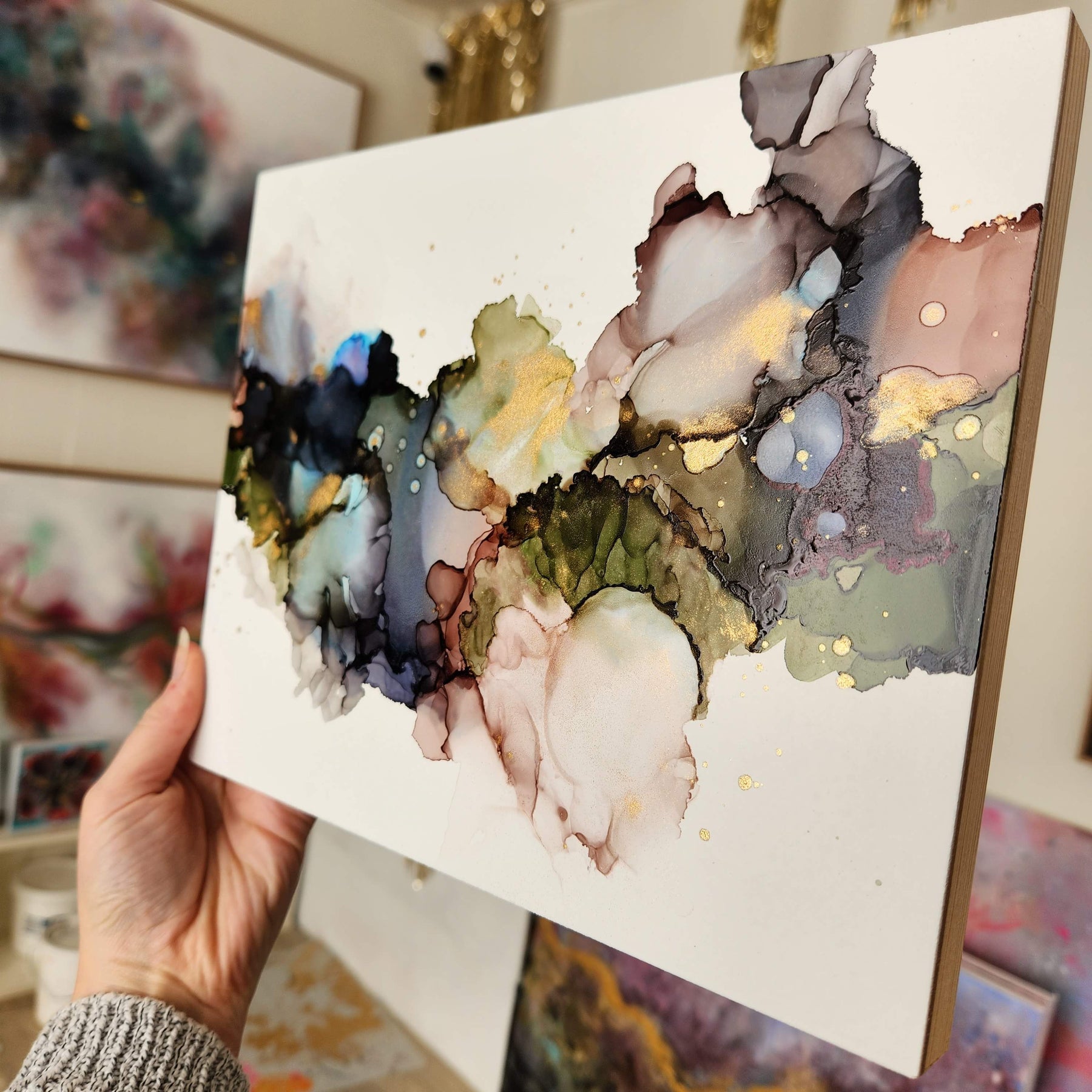 Introduction to alcohol inks - Workshop - OCTOBER 21st class
Date: Saturday 21st October 2023
Time: 10.30am - 12.30pm
Location: My studio - 173a Booran Road Caulfield South
Welcome to the Introduction to Alcohol Ink Art Workshop!
Discover the fascinating, meditative world of alcohol inks while creating your own unique masterpiece. Fern will instruct and guide you through various processes of working with these vibrant and versatile inks.
The workshop is perfect for ink beginners, you don't need any experience.
You'll experiment with different techniques including different application methods, using brushes, wispy lines, blending, metallics and effects to create a beautiful, one-of-a-kind piece of art to take home. Let your creativity flow and see where the inks take you.
We'll provide all the supplies you need to use on the day, including alcohol inks, paper, surfaces, safety equipment, and painting tools. Just bring yourself and your imagination!
This workshop is for you if you are:
- Looking for a new hobby or just want to try a different artform
- Want to learn to go with the flow of inks, and explore your creativity
- Would like to try alcohol inks with everything provided, before investing in products yourself! 
What you'll take home:
- A mini original artwork ready to hang
-A range of small exploration pieces on paper you create during the workshop 
- A printed copy of workshop notes, tips, supplier and product suggestions
- Your inspired self - with all your new knowledge, ready to paint your days away at home!
This workshop will be hands-on with instruction and guidance by Fern who has over six years of experience. You will proudly learn techniques that will allow you to continue to paint and flourish at home.
Please read - SAFETY & NOTES:
Given the nature of the alcohol based inks, safety equipment will be provided to use on the day including latex-free disposable gloves, respirator/masks, and safety glasses. We kindly request that you wear these items during your visit for your own safety and to be able to participate in a safe manner. Should you have any queries or concerns we urge you to reach out before booking!
*Minimum age – 18.
*Please note this workshop is not suitable for those who might be pregnant or have other medical concerns. This is due to ink products being alcohol & isopropyl based. Please seek advice of your medical professional before attending should you have any concerns.  Your safety is my first priority and you are welcome to contact me in advance of booking if you have any queries. I have other workshops that may be suitable for you, hand embellishing with Gold Leaf here!
*The space has one step up, to access from the footpath. If there is anything I can provide to make your visit more comfortable simply let me know.
What to bring:
- Simply yourself! Wear clothes you are happy to get a little bit inky & please bring a jumper if cold as we'll have doors open for ventilation.

Cancellation & refunds:
Places are strictly limited and non refundable. In the event that you cannot attend on the day, unfortunately I cannot offer a refund. However if a replacement person is available such as a friend or family member of yours, or from a waitlist or similar, I can happily discuss this with you.
Fern Siebler reserves the right to cancel the workshop for extenuating personal circumstances such as illness etc. In this case, you will receive a full refund or opportunity to reschedule should you prefer.
Private & corporate workshops?
Looking for a private event? Send me an email at hello@fernsiebler.com.au to discuss corporate, bridal shower, special occasion, birthday or Christmas art party workshops.
My store offers several payment options including Afterpay, Paypal and credit or debit card.